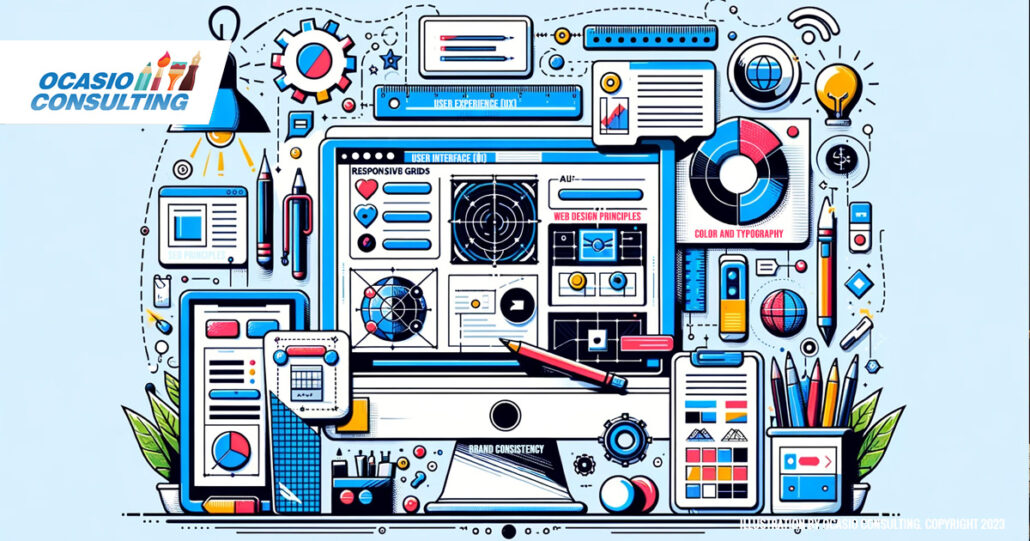 Introduction to Website Design Principles
Website design is an intricate art form that goes far beyond creating a visually appealing page; it's a sophisticated blend of aesthetics and functionality, a dance between creativity and usability.
At its core, website design is about crafting a user experience that captivates, engages, and, most importantly, achieves its intended purpose. Whether that purpose is to inform, entertain, sell, or connect, the principles of effective web design remain the guiding star.
In this comprehensive article, we'll dive deep into the key principles of website design, unraveling the layers that constitute a successful online presence. We're not just talking about the latest trends or the flashiest graphics; we're focusing on the foundational aspects that contribute to a site's enduring success and appeal.
So, buckle up and prepare for a journey into the heart of website design principles, where every click and scroll tells a story, and every page is a new opportunity to make an impact.
Key Takeaways
| Principle | Description |
| --- | --- |
| Responsive Design | Ensuring websites adapt to different screen sizes and devices. |
| User Interface (UI) | Creating an intuitive and aesthetically pleasing interface. |
| User Experience (UX) | Providing a seamless, engaging user experience. |
| SEO Principles | Integrating SEO elements for better online visibility. |
| Color and Typography | Utilizing effective color schemes and typography for better readability and appeal. |
| Brand Consistency | Maintaining brand consistency across the website. |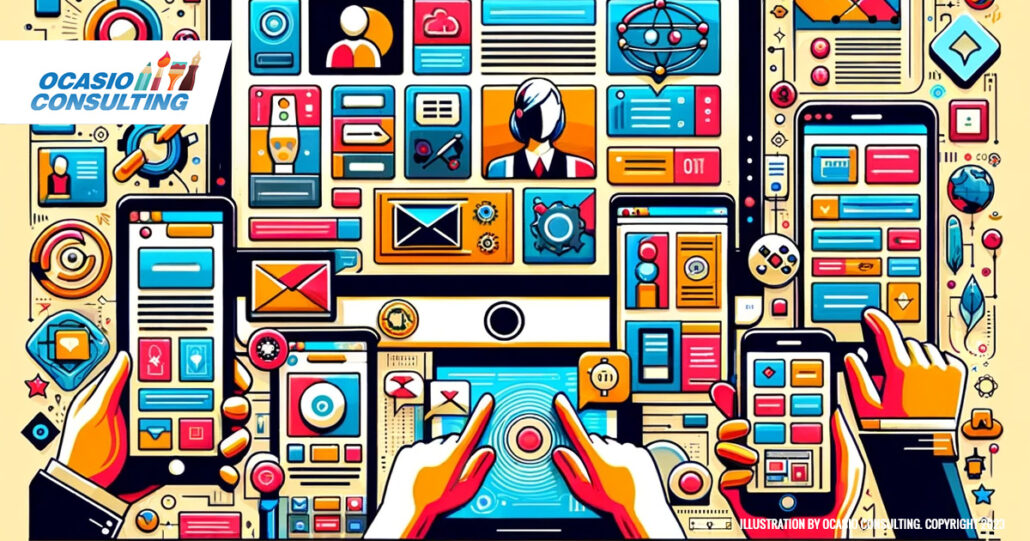 1: The Fundamentals of Effective Website Design
The Importance of Responsive Design
Adapting to Various Devices
In the digital realm, responsive design is vital. A website must look and function well on any device, from desktops to smartphones. Learn more about responsive design on our Responsive Web Design Guide.
Key Aspects of Responsive Design
Fluid Grids: Layouts that adapt to the screen size.
Flexible Images: Images that resize and adjust to different screens.
Media Queries: CSS techniques that apply different styles based on device characteristics.
Crafting an Intuitive User Interface (UI)
UI: The Gateway to User Engagement
The user interface is the point of interaction between your website and your audience. It's more than just visuals; it's about creating an intuitive, easy-to-navigate space. Discover effective UI components on our Custom Web Design Company page.
Designing an Effective UI
| Principle | Description |
| --- | --- |
| Clarity | Ensuring that the website is easy to understand and use. |
| Consistency | Uniform elements across the website enhance familiarity. |
| Aesthetics | A visually appealing design can significantly enhance user engagement. |
User Experience (UX): The Heart of Web Design
Why UX Matters
A great UX design ensures visitors not only visit your website but also engage with the content, leading to higher conversion rates. Explore more about UX on our Orlando Web Design Company page.
Creating a Memorable UX
Simplicity: The simpler the design, the easier it is for users to navigate.
Feedback: Interactive elements that provide immediate response to user actions.
Accessibility: Ensuring that the website is accessible to all, including people with disabilities.
Integrating SEO Principles in Design
SEO: Beyond Keywords
SEO in web design is more than incorporating keywords; it's about creating a structure that search engines can easily crawl and index. For more on SEO, visit our SEO for Small Businesses page.
SEO-Friendly Design Elements
Semantic HTML: Using HTML tags that convey the meaning of the content.
Optimized Images: Images with alt tags and proper file sizes for faster loading.
Mobile Optimization: A mobile-friendly website is a must for good SEO.
In the next part, we will delve deeper into the roles of color and typography in web design, along with the importance of maintaining brand consistency. Stay tuned for more insights on creating compelling and effective websites.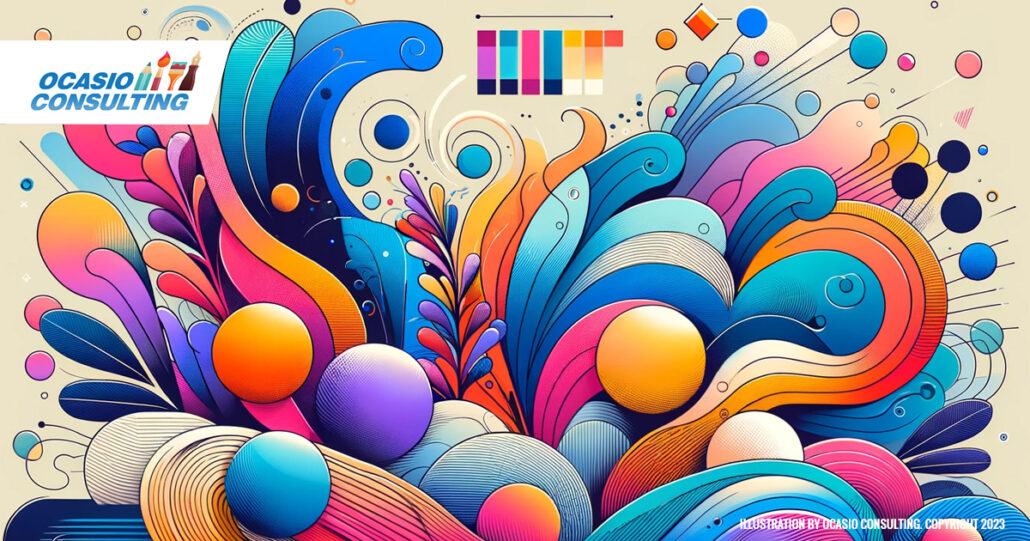 2: Enhancing Website Appeal and Brand Identity
Key Takeaways
| Principle | Description |
| --- | --- |
| Color Psychology | Utilizing color to evoke emotions and convey messages. |
| Typography | Enhancing readability and setting the tone with font choices. |
| Brand Consistency | Aligning website design with brand identity. |
The Role of Color in Web Design
Color Psychology and Web Design
Color greatly influences user perception and interaction with your website. It's not just an aesthetic choice; it's a strategic tool. Dive deeper into color psychology with our guide on Website Color Schemes.
Choosing the Right Color Palette
Target Audience: Consider the preferences of your target demographic.
Brand Identity: Align colors with your brand's image and message.
Contrast and Accessibility: Ensure text is readable and the site is accessible.
Typography: More Than Just Fonts
Typography and User Perception
Typography influences how users perceive and engage with your content. It's a key element that extends beyond just choosing fonts. Learn more about effective typography in our Infographic Design Services section.
Effective Typography in Web Design
Readability: Ensure that text is easy to read on all devices.
Font Choice: Choose fonts that reflect your brand's personality.
Hierarchy: Use different font sizes and weights to create a visual hierarchy.
Brand Consistency: Creating a Cohesive Web Presence
Why Consistency Matters
Consistency in web design is crucial for building trust and recognition, reinforcing your brand identity across different platforms. Explore how to maintain brand consistency in our Professional Logo Design page.
Achieving Brand Consistency
Visual Elements: Consistently use logos, colors, and fonts.
Tone and Messaging: Align the content's tone with your brand's voice.
User Experience: Provide a consistent experience across all pages.
Summary: The Art of Combining Elements
Effective website design combines various elements like color, typography, and brand consistency to create a compelling online presence. By understanding and applying these principles, designers and business owners can craft websites that attract and retain customers.
In the final part of this series, we will explore advanced strategies for website optimization and future trends in web design. Stay tuned for more comprehensive insights into creating state-of-the-art websites.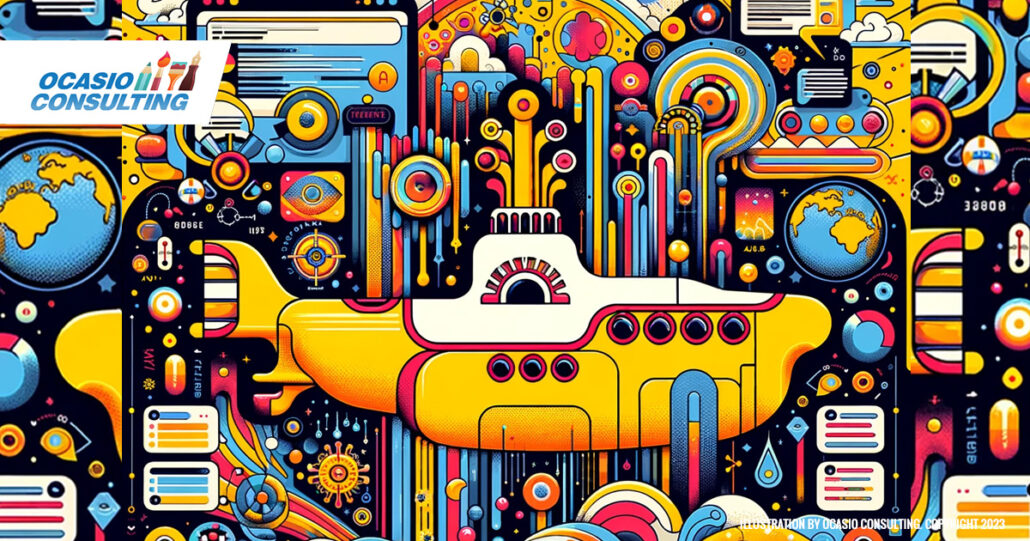 3: Advanced Optimization and Future Trends in Web Design
Key Takeaways
| Principle | Description |
| --- | --- |
| Advanced Optimization | Implementing cutting-edge techniques for performance and SEO. |
| Future Trends | Staying ahead with emerging design trends. |
| Holistic Strategy | Integrating all elements for a cohesive website experience. |
Advanced Optimization Techniques for Web Design
Enhancing Performance and SEO
Optimizing a website involves leveraging advanced techniques to enhance performance and search engine visibility. It's a critical step beyond basic SEO and design principles. Gain further insights on advanced SEO strategies on our SEO Guide.
Key Optimization Strategies
Speed Optimization: Implementing tools and practices to decrease load times. Explore our Website Maintenance Packages for more on speed optimization.
Advanced SEO Techniques: Incorporating structured data and optimizing for voice search. Learn more about on-page SEO at What is On-Page SEO.
Security Features: Ensuring the website is secure and trustworthy.
Embracing Future Trends in Web Design
Staying Ahead of the Curve
The digital landscape is constantly evolving. Staying up-to-date with the latest trends is crucial for a modern, relevant website. Discover the latest trends in our article on Web Design Trends for 2024.
Emerging Trends in Web Design
| Design Trend | Description |
| --- | --- |
| AI and Personalization | Using AI to offer personalized user experiences. |
| Minimalistic Design | Emphasizing simplicity and functionality. |
| Interactive Elements | Creating engaging, interactive user interfaces. |
Creating a Holistic Web Design Strategy
The Importance of a Cohesive Approach
A successful website results from a holistic design strategy that encompasses all aspects of web design, from UI/UX to SEO and beyond.
Integrating Design Elements Effectively
Consistent Branding: Unifying all design elements to reflect the brand.
User-Centric Approach: Designing with the user's needs and behaviors in mind.
Continuous Improvement: Regularly updating and refining the website based on user feedback and analytics.
Summary: The Future of Web Design
Web design is an ever-evolving field, requiring a blend of creativity, technical skill, and strategic thinking. By embracing advanced optimization techniques, staying abreast of emerging trends, and adopting a holistic approach, businesses and designers can create websites that are not only visually stunning but also highly functional and user-friendly.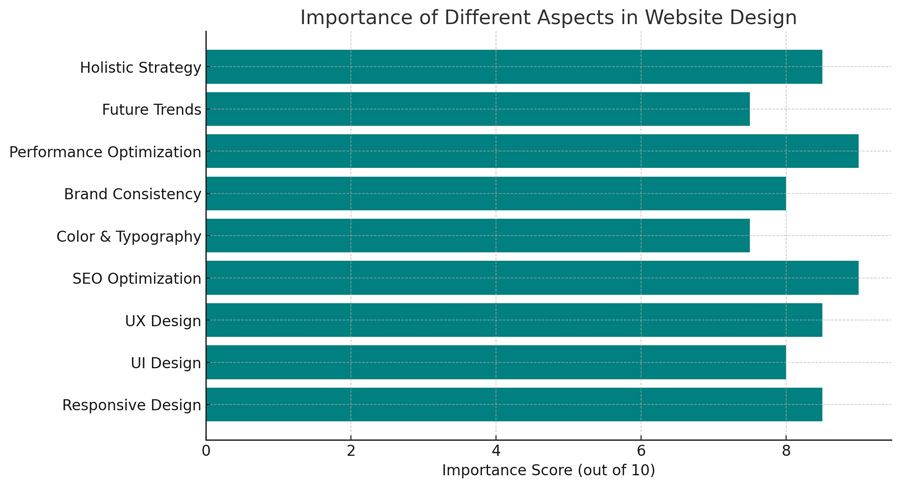 The visualization above showcases the importance scores of various aspects of website design, each rated out of 10. This graph clearly illustrates the critical importance of elements like SEO Optimization and Performance Optimization, while also highlighting the significant role of Responsive Design, User Experience (UX) Design, and a Holistic Strategy in modern web design.
This graphical representation serves as a concise summary of the key components that contribute to creating an effective, engaging, and future-proof website, emphasizing the need for a balanced approach in web design. ​
In Conclusion
As we wrap up this exploration of Website Design Principles, it's clear that the creation of a successful website is akin to conducting a symphony. Each element, from layout to typography, color scheme to user interface, plays a vital role in the overall performance. Just as a symphony captivates its audience, a well-designed website captivates its visitors, guiding them through a seamless, engaging experience.
The principles discussed in this article are not just guidelines; they are the building blocks of a digital masterpiece. By understanding and applying these principles, designers and website owners can create experiences that not only look aesthetically pleasing but also function effectively, meeting the needs and expectations of their users.
Remember, in the ever-evolving landscape of digital design, staying adaptable and open to new trends and technologies is crucial. However, the core principles of website design remain constant. They are the compass that guides us through the complexities of creating online experiences that resonate and endure.
So, whether you're starting your journey in web design or looking to refine your existing skills, keep these principles close. They will be your guide to creating websites that are not just seen but remembered, not just visited but experienced. Embrace the art and science of Website Design Principles, and watch as your digital creations take on a life of their own.
FAQs on Website Design Principles