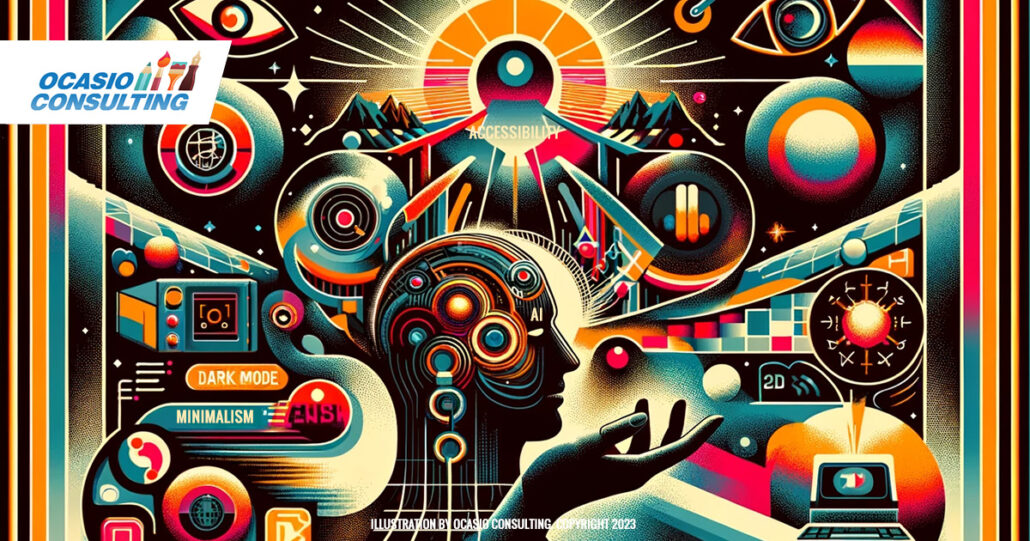 Introduction
As we strap on our time-travel goggles and set the dial to 2024, we at Ocasio Consulting are doing what every sane person in the unpredictable world of technology does: making bold predictions based on a mixture of expert analysis, caffeine-fueled brainstorming sessions, and our magic 8-ball. Because when it comes to the future, especially a future as near and dear as 2024, who doesn't want to know if we'll finally be able to attend meetings via hologram or if our computer screens will just be floating in the air like some sci-fi movie?
Now, I know what you're thinking. "Experts have been predicting flying cars and hoverboards for years, and all I got was a phone that can order pizza for me." But here at Ocasio Consulting, we've got a feeling in our bones (and our highly sophisticated trend-analysis algorithms) that web design is about to get as wild as a kangaroo in a bounce house. And we're not just talking about making your website look snazzy; we're talking about a digital revolution that will make your current website feel like it belongs in a museum next to the fossils.
So, without further ado, let's dive headfirst into the pixelated pool of 2024. It's like looking into a kaleidoscope that's been hooked up to a computer – colorful, slightly disorienting, but ultimately a vision you can't wait to be a part of.
Key Takeaways:
Artificial Intelligence: It's not just for calculating your taxes or beating you at chess anymore.
Minimalism: Less is more, except when it comes to the number of marshmallows in your hot chocolate.
Interactivity: Engaging users in ways that make even the DMV seem fun by comparison.
Dark Mode: Saving eyes from the tyranny of bright screens since, well, dark mode was invented.
Accessibility: Making the web a place for everyone, even people who like pineapple on their pizza. (We don't judge.)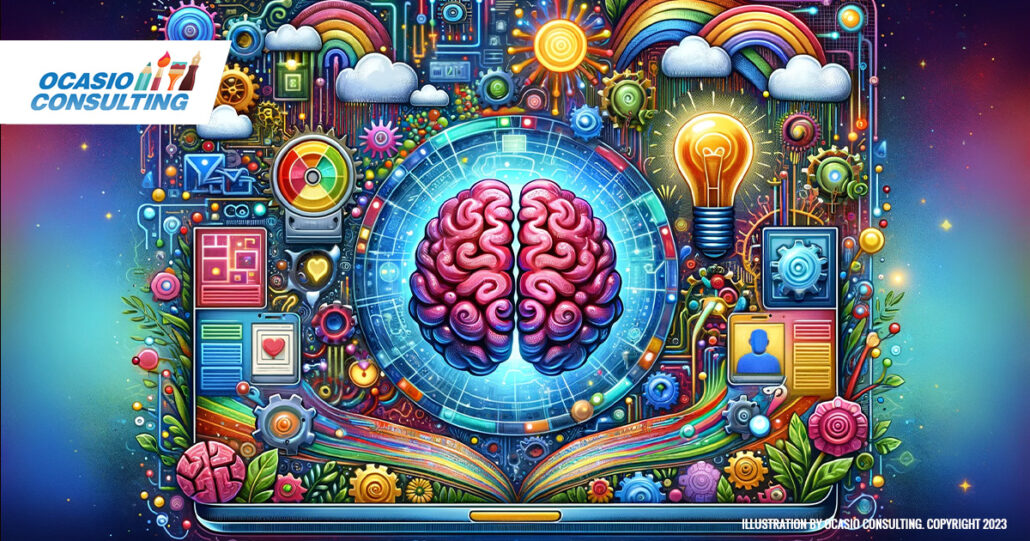 AI and Machine Learning: Not Just for Sci-Fi Anymore
The AI revolution in web design is upon us, promising a future where websites can predict what you want to do before you do it. It's like having a psychic friend who knows you're going to crave Thai food before you've even finished breakfast.
AI vs. Traditional Web Design: The Epic Showdown
| Aspect | Traditional Web Design | AI-Driven Web Design |
| --- | --- | --- |
| User Experience | As predictable as a sitcom laugh track | Like a choose-your-own-adventure book on steroids |
| Content Personalization | Thinks everyone loves cat videos (they do) | Knows which cat videos are your personal favorites |
| Design Adaptability | Stuck in its ways like a stubborn mule | Changes its approach like a chameleon at a rave |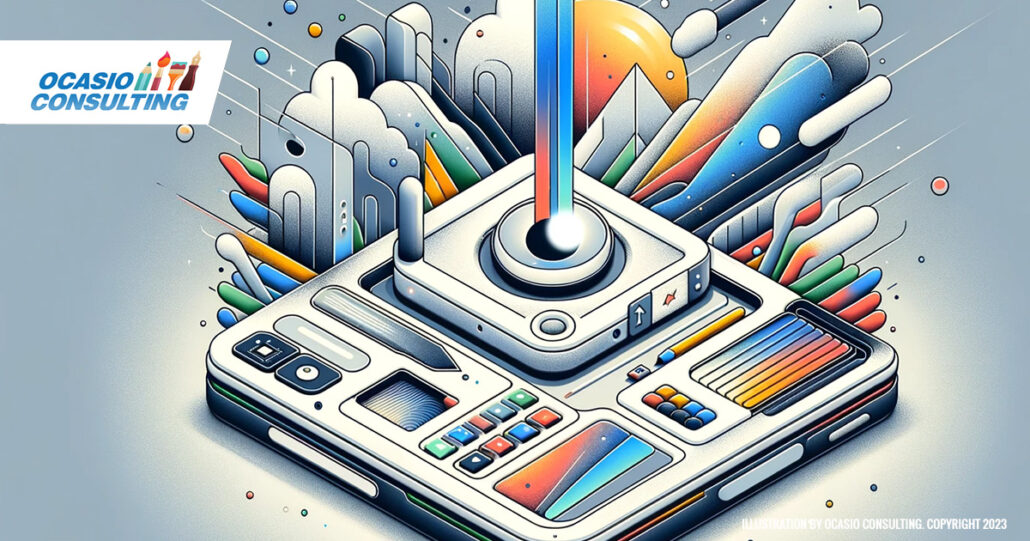 Minimalism: Where Every Pixel Counts
Imagine a world where every pixel on your screen had to earn its place. That's minimalism. It's the digital equivalent of those tiny houses where you can cook dinner and take a shower without ever leaving your bed.
Top 5 Minimalist Design Techniques: Now Including Unnecessary Pixel Shaming
Monochromatic color schemes that make you feel like you're in a Swedish design magazine.
White space that's so expansive you could land a virtual plane in it.
Navigation so sleek it makes sports cars look clunky.
Textures smoother than a jazz singer's voice on a lazy Sunday afternoon.
Content that's laser-focused like a cat stalking a laser pointer.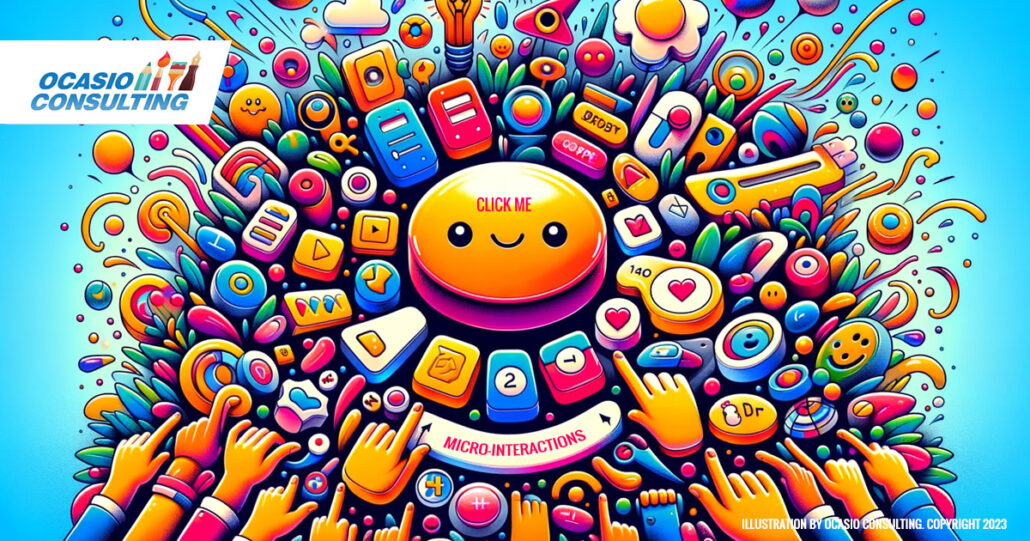 Interactivity and Micro-Interactions: Because We Like to Click Things
We're programmed to poke things. That's why interactive web design is like a digital bubble wrap – it satisfies our primal urge to click, tap, and swipe. And with micro-interactions, even scrolling can feel like a victory parade for your fingertips.
Implementing Micro-Interactions Without Turning Your Website Into a Carnival:
Consider the subtlety of a wink versus a foghorn to the face – aim for the former.
Craft animations that make users feel like they've just discovered fire.
Test with real humans, preferably those who haven't had three cups of coffee.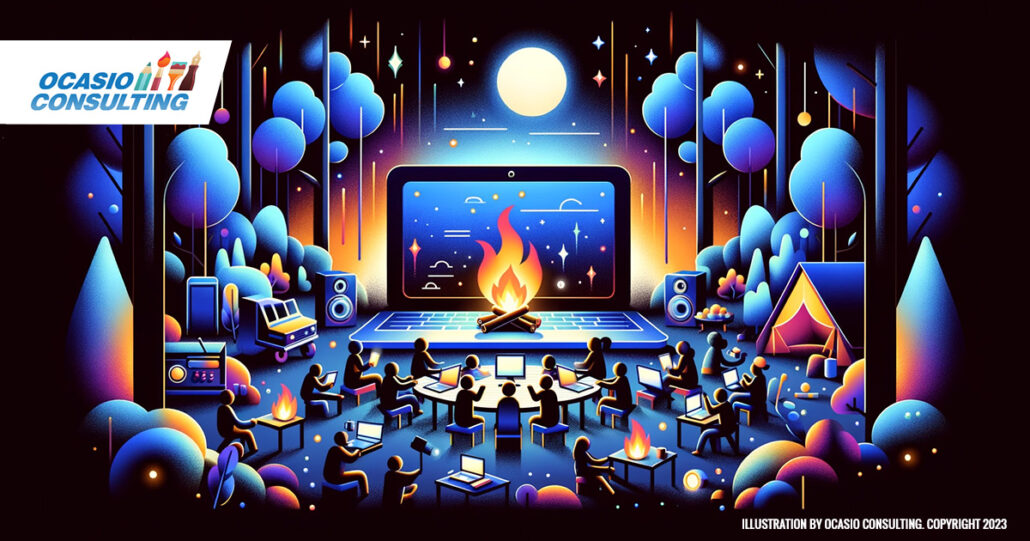 Dark Mode: Embracing Our Inner Night Owls
Dark mode is more than just a screen setting; it's a lifestyle. It's for those who know that the glow of a monitor is the modern-day campfire, and we're all just storytelling cavemen with better haircuts.
Pros and Cons of Going to the Dark Side (Not That Dark Side): Pros: Feels like you're in a secret club. A secret club that does spreadsheets. Cons: Sometimes you miss the blinding light of day. Sometimes.
Conclusion
So, what have we learned as we stand on the precipice of tomorrow, gazing out at the vast expanse of 2024? We've seen that the future of web design holds more promise than a politician during an election year. At Ocasio Consulting, we're not just ready; we're practically in the future already, tapping our watches impatiently, waiting for everyone else to catch up.
As we bid adieu to this whirlwind tour of future web design, let's not forget that the web is a living, breathing entity that's as unpredictable as a cat in a room full of rocking chairs. But fear not! We're committed to navigating the twists, turns, and occasional loop-the-loops with the grace of a swan on roller skates. We'll continue to push pixels, code, and boundaries to make sure that when the future finally arrives, it'll look back at us and say, "Well done, Ocasio Consulting. You nailed it."
Final Takeaway:
In the end, the web design trends of 2024 may be as mysterious as the depths of the ocean or the content of a teenager's bedroom. But one thing's for certain: with Ocasio Consulting at the helm, your digital presence will be as fresh as a just-printed meme. So come on, future, we've got our HTML5 shields up, our CSS swords ready, and a dragon-sized can of creativity. Let's do this.