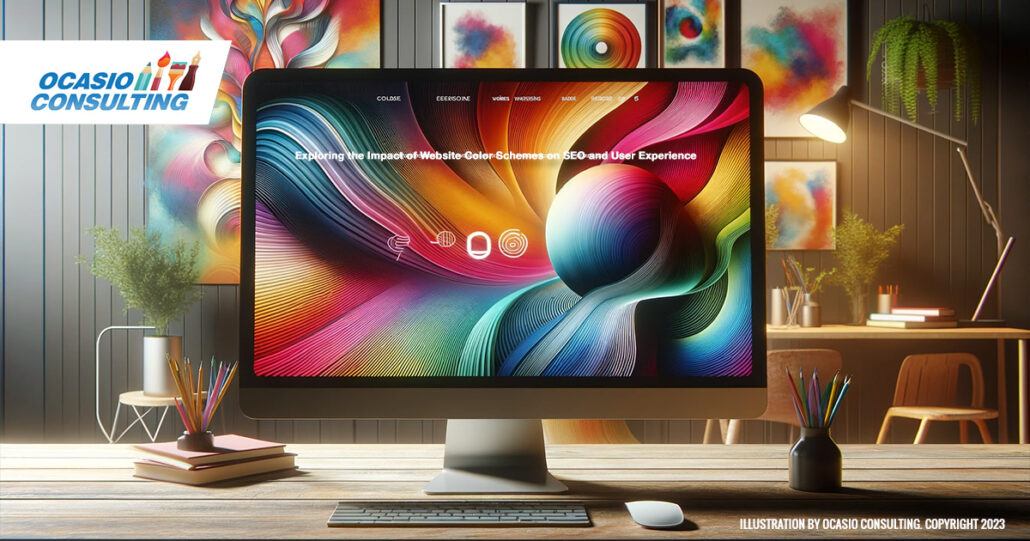 Key Takeaways
| Aspect | Importance |
| --- | --- |
| Conversion Rate | Adjusting color schemes can significantly boost website conversion rates. |
| SEO Impact | Color choices affect SEO by influencing readability, user experience, and potential conversions. |
| Brand Identity | Colors contribute to brand recognition and can evoke specific psychological responses. |
| User Behavior | A well-chosen color scheme can positively influence user behavior and site engagement. |
| Legibility and Readability | High color contrast is crucial for legibility, affecting user stay time and SEO. |
The Psychology of Color in Web Design
When it comes to web design, the color scheme is not just an artistic choice—it's a strategic tool. Different colors evoke different emotions and reactions. For instance, red can create a sense of urgency, while blue is often associated with calmness and stability. Yellow, on the other hand, tends to evoke feelings of happiness and positivity. This psychological impact of colors is crucial in web design as it influences user experience and engagement, playing a vital role in how visitors perceive your brand​​.
Color Schemes and Conversion Rates
The color scheme of your website can have a direct impact on your conversion rates. A well-thought-out color scheme can encourage visitors to take desired actions, such as purchasing a product or subscribing to a service. This is because certain colors can trigger specific responses in viewers, which, in turn, can lead to increased conversions​​.
SEO and Color Choices
Interestingly, your website's color scheme also influences its SEO performance. Good color contrast is essential as it enhances readability and user experience. These factors play a significant role in how search engines rank your site. Additionally, the proper use of colors can make your content more accessible and easier to navigate, contributing to improved SEO​​​​.
Usability and Color Selection
Usability is a critical aspect of web design that directly impacts SEO. A user-friendly website is not only about easy navigation but also about how color is used to distinguish between clickable and non-clickable elements. This clarity in design can lead to better user experience and, consequently, better SEO performance​​​​.
Legibility, Readability, and SEO
The legibility of your website's content is heavily influenced by color contrast. High contrast, like black text on a white background, is often the most readable. However, some designers opt for more stylish combinations, such as white text on a black background, which can be less legible. Poor legibility can lead to lower conversions and, by extension, can negatively impact SEO. It's essential to strike a balance between aesthetic appeal and readability to optimize both user experience and SEO​​.
Enhancing Brand Identity with Color
Colors are a powerful tool for brand identity. The right color scheme can make your brand memorable and help it stand out in a competitive market. For instance, using consistent colors across your website and other marketing materials can aid in brand recognition and reinforce brand values​​.
Case Study: Effectiveness of Color Schemes
Consider the impact of a well-designed color scheme on a renowned brand or a successful website. How did their color choices contribute to their brand identity, user experience, and SEO success? An analysis of these aspects can provide valuable insights for your own website design strategy.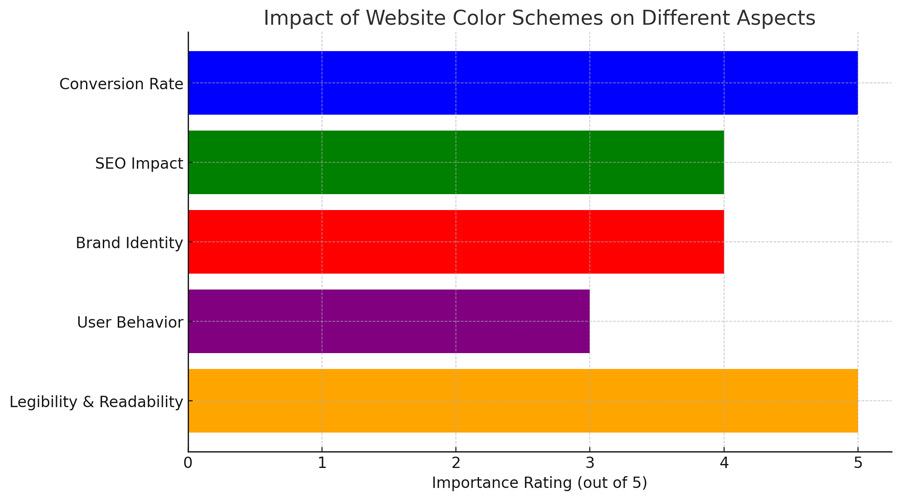 The visual representation above highlights the varying levels of importance of different aspects related to website color schemes. As shown, "Conversion Rate" and "Legibility & Readability" are rated the highest in importance, indicating their crucial role in both user experience and SEO effectiveness. "SEO Impact" and "Brand Identity" follow closely, emphasizing the significant role of color schemes in search engine optimization and brand perception. "User Behavior" is also influenced by color choices, albeit to a slightly lesser degree. This visualization underscores the multifaceted impact of color schemes in website design and online marketing.
For a comprehensive understanding of how these elements can be effectively integrated into your website, exploring our custom web design company services can offer valuable insights and solutions tailored to your needs.​​
Implementing Color Schemes in Web Design
When designing or redesigning your website, consider the psychological impact of colors, how they can improve conversions, their SEO implications, usability, and their role in enhancing brand identity. For more insights on creating visually appealing and effective websites, explore our web design services for small businesses.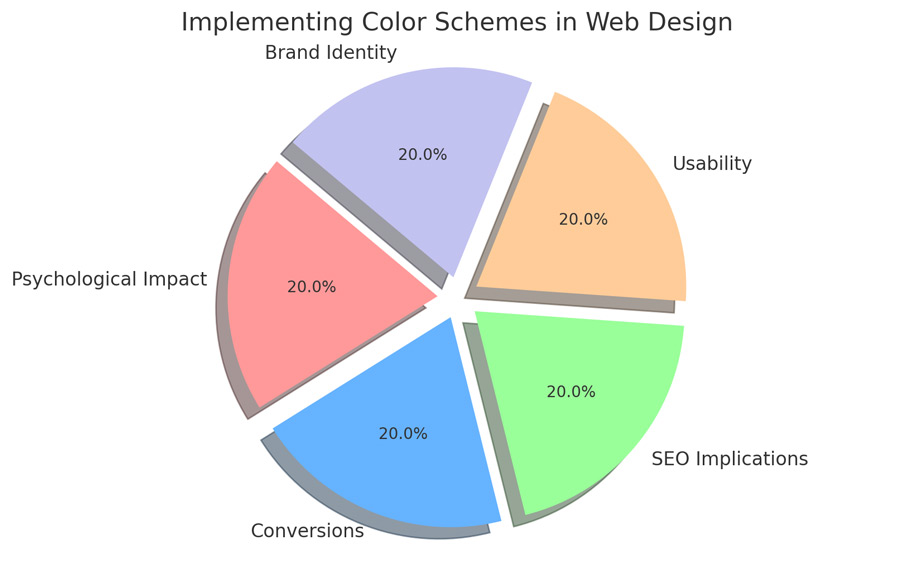 The pie chart above graphically represents the equal importance of various factors to consider when implementing color schemes in web design. Each slice of the pie is allocated an equal portion, signifying that the psychological impact of colors, their ability to improve conversions, SEO implications, usability, and their role in enhancing brand identity are all equally crucial elements in the design process. This visual representation can be effectively used in the "Implementing Color Schemes in Web Design" section of your article, providing a clear and concise overview of these key factors.​
Maximizing User Engagement Through Color
Color schemes are not just about visual appeal; they play a crucial role in user engagement. The right combination of colors can make your website more inviting and encourage visitors to stay longer, thus reducing bounce rates and improving SEO performance. A strategically chosen palette can guide users' attention to key areas, like call-to-action buttons or important content, thereby enhancing the overall user experience. Learn more about optimizing user engagement through effective web design by checking out our blog.
The Role of Color in Mobile Web Design
In the era of mobile-first design, the color scheme plays a pivotal role in the mobile user experience. Mobile screens offer less space, making the choice of colors even more critical to ensure readability and ease of navigation. The right color scheme can make your mobile site look clean, uncluttered, and easy to use, which is essential for attracting and retaining mobile users. For insights on mobile web design trends, consider exploring our comprehensive guide on responsive web design.
Color Trends in Website Design
Staying abreast of current color trends is crucial for modern website design. However, it's essential to balance trendy color schemes with timeless design principles to ensure your website remains effective and appealing over time. Incorporating current trends can give your site a fresh and contemporary feel, but it's important to ensure that these choices align with your brand identity and audience preferences. Discover the latest trends in website design, including color schemes, by visiting our section on web design trends for 2024.
Utilizing Color Schemes for Brand Differentiation
In a crowded digital marketplace, a unique and memorable color scheme can set your brand apart. Colors can convey your brand's personality and values, making it more recognizable and relatable to your audience. By choosing a color scheme that resonates with your target audience, you can create a strong brand identity that differentiates you from competitors. To delve deeper into the role of branding in business success, take a look at our insights on professional logo design.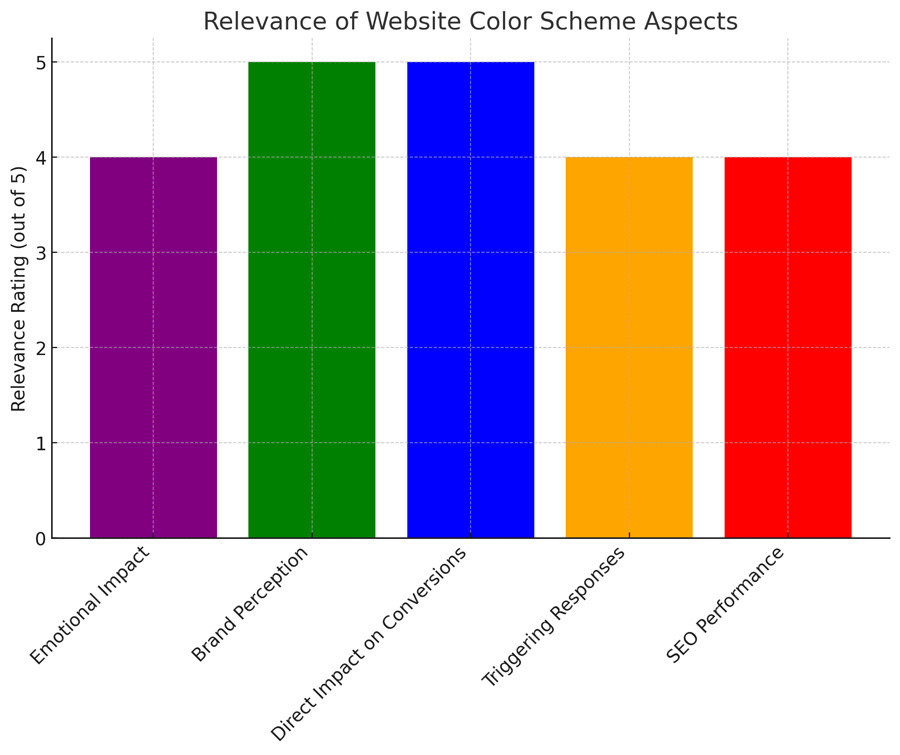 The visual representation above illustrates the relevance of various aspects related to website color schemes. Each aspect has been rated on a scale of 1 to 5 for its relevance in the context of web design and user experience:
Emotional Impact: This aspect, rated at 4, underscores how color schemes can evoke specific emotions in users, affecting their interaction with the website.
Brand Perception: Rated at the highest significance of 5, it highlights the critical role of color schemes in shaping how users perceive and remember a brand.
Direct Impact on Conversions: Also rated at 5, emphasizing the direct influence that color choices have on the conversion rates of a website.
Triggering Responses: With a relevance rating of 4, this aspect reflects the ability of color schemes to trigger specific responses or actions from users.
SEO Performance: This aspect, rated at 4, shows the impact of color schemes on a website's search engine optimization, particularly through user experience and content accessibility.
These ratings collectively underscore the multifaceted impact that color schemes have in the realms of web design, branding, user engagement, and SEO.​
Conclusion
A well-chosen color scheme is an essential component of effective web design, playing a significant role in enhancing user experience, SEO, and brand identity. By understanding the psychology of colors, keeping up with design trends, and choosing colors that align with your brand and audience, you can create a visually appealing, user-friendly, and SEO-optimized website.
For additional guidance on creating a successful online presence, explore our SEO for small businesses services. And if you're looking to give your website a complete makeover, consider our website redesign services.
FAQs about Website Color Schemes