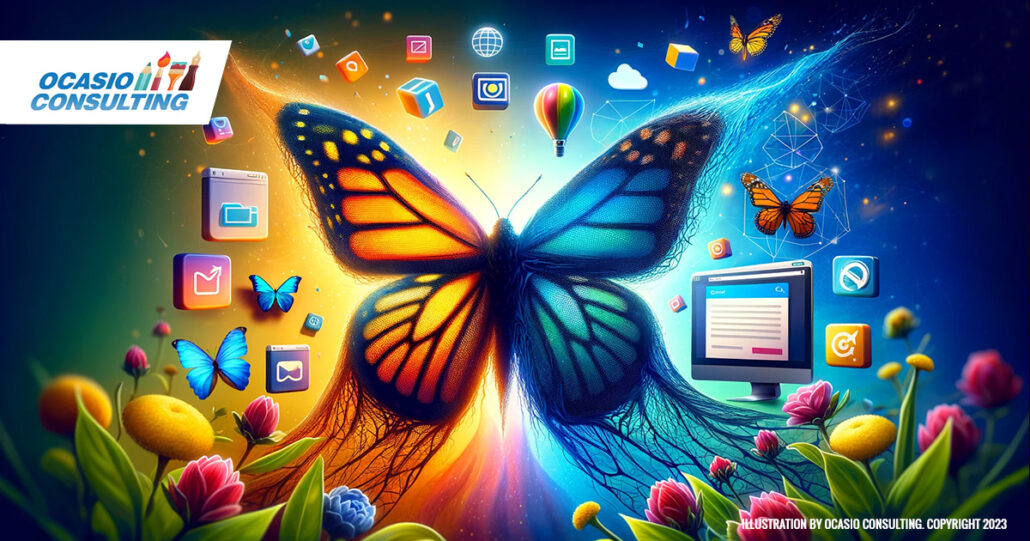 Introduction
In the digital jungle of the World Wide Web, where websites roam wild and free, there comes a time when even the king of the internet jungle needs a little makeover. Yes, I'm talking about your website, which might currently look like it was designed during the era when "surfing the net" was a cool new phrase. Ocasio Consulting is here to tell you that it's time for a website redesign, and we've got seven rock-solid reasons that are more persuasive than a cat video with a surprise puppy ending.
So, gather around the virtual campfire, fellow netizens, and let's embark on an epic quest to discover why your website deserves the digital equivalent of a day at the spa, complete with all the fancy cucumber water it can drink.
Key Takeaways:
| Reason | Impact |
| --- | --- |
| Improved User Experience | Makes visitors less likely to flee |
| Mobile Optimization | Because thumbs rule the world |
| Better SEO Rankings | Get found or get lost |
| Stronger Brand Messaging | Your brand, louder than my aunt at family gatherings |
| Enhanced Security | No more "Oops, we got hacked" emails |
| Competitive Edge | Be the website others envy |
| Up-to-date with the Latest Web Technologies | Be cooler than a hipster's Spotify playlist |
1. Improved User Experience (UX)
Remember the days when "user-friendly" meant that the website didn't cause your computer to burst into flames? Well, we've evolved since then. Today's web surfers expect the digital red carpet to roll out smoothly beneath their cursors. And if they even suspect your website was built using GeoCities, they'll bolt faster than teenagers when someone yells, "Who wants to help me with the dishes?"
UX: Then vs. Now
| Aspect | Then: The Dial-Up Days | Now: The Speed-of-Light Era |
| --- | --- | --- |
| Loading Time | Enough time to brew coffee | Blink and you missed it |
| Navigation | A maze only a Minotaur could love | As intuitive as breathing |
| Content Clarity | Like reading hieroglyphics | Crisp as a fresh apple slice |
2. Mobile Optimization
If your website isn't mobile-friendly, you're basically telling more than half the planet, "We don't need your kind here." And since most humans are now cyborgs fused to their smartphones, having a site that's as mobile-unfriendly as a squirrel on a unicycle means you're missing out on a whole lot of potential squirrel… I mean, customer action.
Top 3 Ways to Win the Mobile Crowd:
Embrace the thumbs. Make everything thumb-clickable.
Think small, but dream big. Optimize for the tiny screen with big ideas.
Speed is king. If your page loads like molasses, you're toast. And not the good kind.
3. Better SEO Rankings
SEO stands for "Something Extremely Obscure," right? Wrong. It's how you play hide and seek with search engines—and you're currently "it." Without a redesign, your site might as well be hiding in the attic under a dusty tarp. Let's dust off that tarp and get you found faster than a lost remote control.
The SEO Glow-Up:
| SEO Factor | Before the Magic Touch | After the Ocasio Sparkle |
| --- | --- | --- |
| Keywords | Were they even there? | Sharper than a tack |
| Meta Tags | Meta-what-now? | Tailored like a bespoke suit |
| Mobile-Readiness | More like mobile-madness | Smooth as a jazz riff |
4. Stronger Brand Messaging
Branding is what makes your company more recognizable than your uncle Bob's dance moves at a family reunion. It's not just about slapping a logo and catchy slogan on the top of your homepage; it's about weaving your core values into every pixel. A redesign can transform your site from "Who are we again?" to "Oh, yeah, those guys!"
Make Your Brand Pop:
Consistency is key, like the chorus in a pop song.
Tell your story, but skip the boring parts.
Visuals are your secret handshake with the world.
5. Enhanced Security
In the dark alleys of the internet, there are ne'er-do-wells up to no good, trying to pick the locks of your website. An update means stronger locks, taller fences, and maybe even a digital moat with cybernetic alligators. Because the only thing we want going viral is your content, not a news story about your site's security faux pas.
Security Essentials:
SSL Certificates: Like sealing your letters with a wax stamp, but cooler.
Secure Hosting: Don't skimp on the good stuff. Your data's worth it.
Regular Updates: Like changing the batteries in your smoke detector, but less annoying.
6. Competitive Edge
Are you leading the pack or trailing behind, eating their digital dust? A fresh, slick website is like a shiny sports car in a world full of station wagons. It's not just about keeping up; it's about being so far ahead, your competitors need binoculars to catch a glimpse of your tail lights.
Outshine the Competition:
| Feature | Your New Site | Competitor's Site |
| --- | --- | --- |
| Design | Cutting-edge | So 2010 |
| User Experience | Mind-blowingly smooth | Clunkier than a floppy disk |
| Innovations | Packed to the brim | Barely innovating |
7. Up-to-date with the Latest Web Technologies
The internet is an ever-evolving beast, and your website should evolve too. A redesign means strapping a rocket to your digital presence and launching it into the new age. We're talking about the kind of tech that makes your site not just a website, but a web experience.
Tech That Talks the Talk:
AI and Chatbots: Your 24/7 customer service ninjas.
Progressive Web Apps (PWAs): Websites that behave like apps, because why not?
API Integrations: Making your website play nice with others.
In Conclusion
In the end, investing in a website redesign with Ocasio Consulting is like choosing to ride in first class instead of strapping yourself to the wing of the plane. It's about giving your brand the VIP treatment it deserves and making sure that when your customers visit, they're not just impressed; they're blown away. So, what are you waiting for? The future is knocking on your door, and it's time to answer with a website that's dressed to impress.
Remember, your website is the digital handshake of your business – make sure it's not a limp one. Contact Ocasio Consulting today, and let's make your website the star of the internet show. Because in the world of web design, being fashionably late is not en vogue.
Final Takeaway: By the time we're done, your website won't just be a website; it'll be a web wonderland. And the only thing your visitors will be asking is, "Can we stay a little longer?"