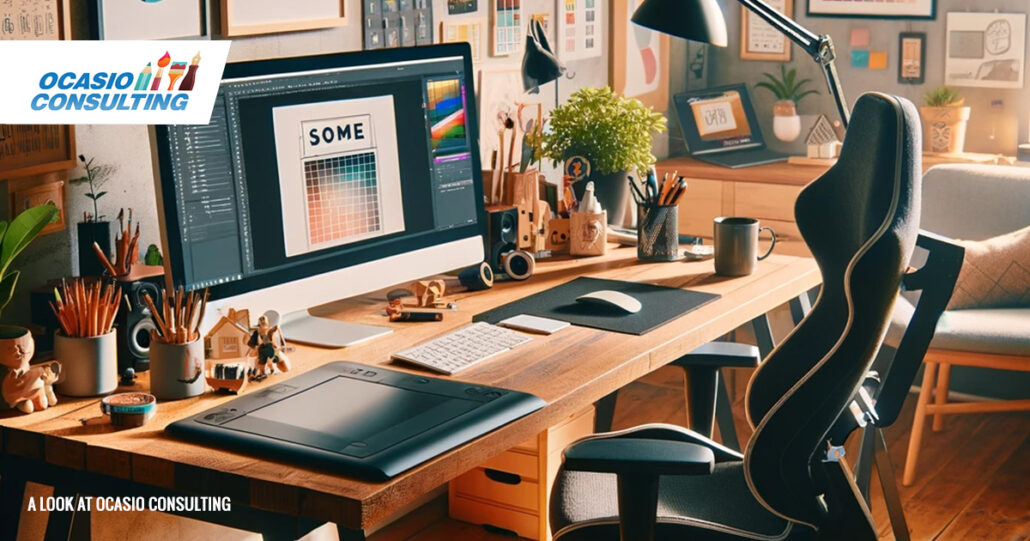 Introduction
In the bustling digital realm, having a distinct and robust online presence is indispensable for businesses aiming to carve a niche for themselves. The journey towards digital excellence is laden with challenges, yet, with the right partner, it transforms into an expedition of discovery, growth, and ultimately, success.
One name that resonates with such proficient digital partnerships in Orlando is Ocasio Consulting. This revered digital solutions provider has been the linchpin for numerous businesses, propelling them towards a horizon where digital aspirations meet tangible results.
As we traverse the digital ethos of Ocasio Consulting, we unveil a realm where creativity, technical prowess, and a keen understanding of market dynamics blend seamlessly to offer solutions that are not just result-driven but are tailored to echo the unique essence of each brand. From graphic design to web development, SEO, and beyond, Ocasio Consulting emerges as a beacon of digital excellence, illuminating the path for businesses towards online success.
This article endeavors to unfurl the tapestry of services and values that Ocasio Consulting brings to the table, showcasing how they have been instrumental in transforming digital presences, and why they stand as a hallmark of trust, expertise, and innovation in the digital landscape.
Join us as we delve deeper into the digital odyssey of Ocasio Consulting, exploring how they harness digital tools and expertise to craft online narratives that resonate, engage, and drive growth.
Key Takeaways
| Key Takeaways | Description |
| --- | --- |
| Expertise | Tailored graphic design solutions, custom logo creation, and professional web design services ensure a solid digital foundation for businesses. |
| Maintenance | WordPress maintenance services to ensure the longevity and functionality of your website. |
| SEO Mastery | Local SEO services tailored for maximum online visibility and engagement with the target audience. |
| Education | A blog filled with insightful articles to educate clients on the digital landscape. |
| Personal Touch | Verified reviews and a detailed about page provide a glimpse into the firm's journey and values. |
Table of Contents
Establishing a Strong Digital Footprint
In an ever-evolving digital landscape, establishing a unique identity is paramount for businesses. Ocasio Consulting, based in Orlando, has risen to prominence by offering tailored digital solutions. Let's delve into the aspects that set them apart:
Graphic Design: The Visual Gateway
Building a Unique Brand Identity
Web Design: Your Digital Storefront
Conversion-driven Web Design Services​.​
Capturing the essence of a brand and engaging visitors.
Nurturing and Maintaining Digital Assets
Maintaining a robust digital presence requires continuous effort. Ocasio Consulting offers services that ensure the longevity and relevance of your digital assets:
| Service | Description |
| --- | --- |
| WordPress Maintenance | Ensures your website remains updated and functional. |
| SEO Services | Tailored strategies for online visibility and engagement. |
Ensuring Website Longevity
Scaling the SEO Ladder
Building Trust and Learning Together
Transparency and continuous learning are the hallmarks of successful digital partnerships. Ocasio Consulting exemplifies these values:
Building Trust Through Transparency
Continuous Learning
The Blog section provides insightful articles and updates​.
Expanding Reach and Future-Ready Solutions
Adopting a forward-thinking approach and extending reach are vital for digital success. Ocasio Consulting is well-positioned in these aspects:
Extending Reach
Future-Ready Digital Solutions
Evolving services align with the latest digital advancements.
Innovative digital marketing strategies for a competitive edge.
Ocasio Consulting is not just a service provider but a partner in the true sense, committed to empowering businesses in the digital realm. With a client-centric approach and a diverse range of services, they are a reliable choice for businesses looking to thrive online.
The Journey Towards Digital Excellence
Ocasio Consulting's journey is a testament to their expertise and commitment towards helping businesses navigate the digital landscape effectively. Their approach is holistic, encompassing not just the technical aspects but also the human element that is crucial for digital success.
A Journey Worth Sharing
The About Page sheds light on their journey and the values that drive them​1​.
Customer-Centric Approach
Ensuring customer satisfaction is at the core of their service delivery.
Verified reviews provide a glimpse into the positive impact they have had on their clients' businesses.
| Highlight | Description |
| --- | --- |
| Client-Centric Approach | Focused on ensuring customer satisfaction and building long-term relationships. |
| Verified Reviews | Providing real testimonials to build trust and showcase their expertise. |
Open Channels of Communication
The Contact Page facilitates easy communication, ensuring that assistance is just a click away.
Staying Ahead of the Curve
In a rapidly changing digital world, staying updated with the latest trends and technologies is crucial. Ocasio Consulting ensures that their clients are always a step ahead:
Adopting New Technologies
Embracing the latest web design techniques and digital marketing strategies.
Continuous Improvement
A commitment to evolving their services to meet the changing needs of the digital landscape.
A Partner in Growth
Ocasio Consulting goes beyond just providing services; they are a partner in the true sense, invested in their client's success.
Comprehensive Suite of Services
A one-stop-shop for all digital needs, providing a seamless experience for clients.
Empowering Businesses
Helping businesses establish a strong digital foundation and continuously evolve to meet the challenges of the digital realm.
Conclusion
Ocasio Consulting embodies the essence of digital excellence, blending creativity, technical expertise, and a client-centric approach to deliver holistic digital solutions. Their diverse service offerings and commitment to client success make them a reliable choice for businesses looking to establish and grow their digital presence in Orlando and beyond.
Through a blend of innovative solutions and a personalized approach, they empower businesses to not only navigate the digital landscape but to thrive in it.
With Ocasio Consulting, businesses are not just getting a service provider; they are gaining a partner dedicated to ensuring their success in the digital arena. This is a journey towards digital excellence that is well worth embarking on.
FAQs