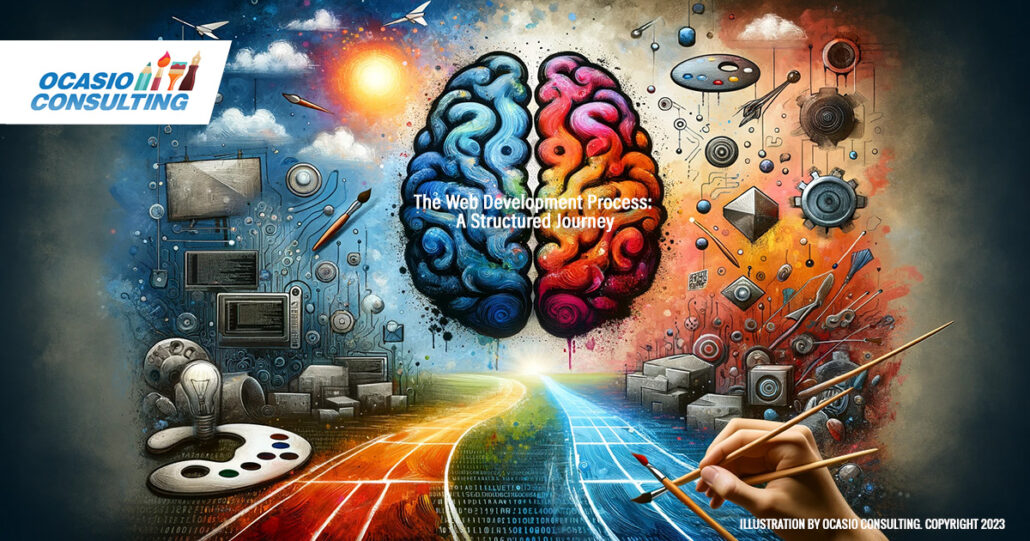 Introduction
Web development is not just about coding or designing a website; it's about crafting an online identity that resonates with its audience. the web development team at Ocasio Consulting, LLC understands this intricate process and brings a blend of creativity and technical expertise to the table.
In this article, we'll dive into the web development process, elucidating each stage and its significance in creating a dynamic web presence.
Key Takeaways
| Aspect | Detail |
| --- | --- |
| Web Development Process | Comprehensive guide to the stages and importance in web design |
| Importance of a Structured Process | Ensuring quality, consistency, and client satisfaction |
| Integration with SEO and Marketing | How the process complements SEO and marketing efforts |
| Trends and Innovations | Keeping up with the latest in web development |
Understanding the Web Development Lifecycle
Conceptualization and Strategy Planning: Every successful website begins with a clear vision. This stage involves understanding the client's business, target audience, and objectives. It's crucial to map out the website's purpose, whether it's for e-commerce, branding, lead generation, or informational purposes.
Design and User Experience (UX): This phase is where creativity meets user needs. A well-designed website should be aesthetically pleasing and easy to navigate. Our professional web design services focus on creating intuitive and engaging user experiences.
Development and Coding: The backbone of any website, this stage involves bringing the design to life through coding. It includes front-end and back-end development, ensuring the site is responsive and functional across various devices and platforms.
Testing and Quality Assurance: Before going live, it's essential to rigorously test the website for bugs, loading times, and compatibility issues. This step ensures a smooth, user-friendly experience.
Launch and Post-Launch Support: Launching the website is just the beginning. Post-launch, it's vital to provide ongoing support, updates, and maintenance to keep the website running optimally. Our website maintenance packages offer comprehensive post-launch support.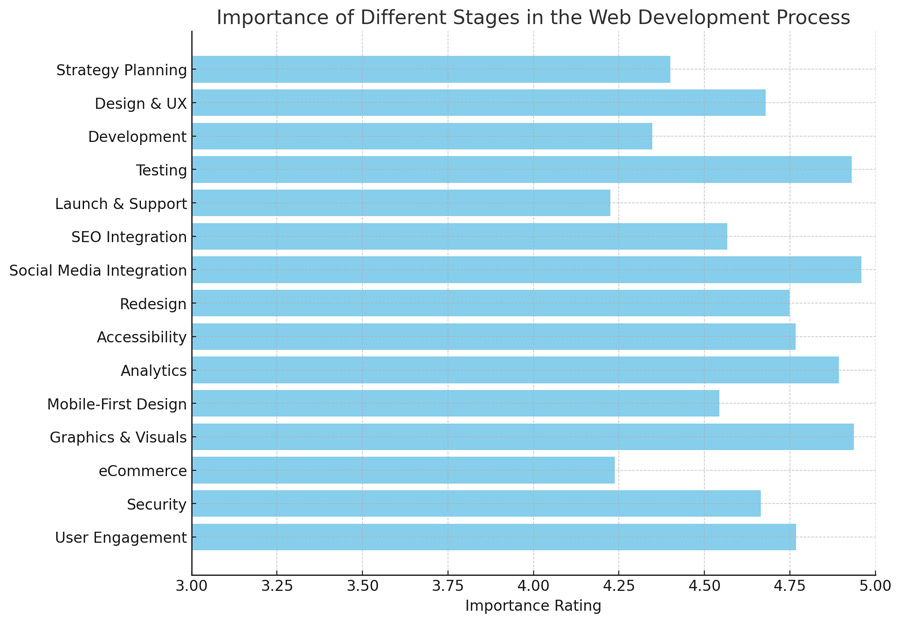 The bar chart above visualizes the importance of different stages in the web development process. Each stage, ranging from strategy planning to user engagement, is rated on a scale of importance, with higher values indicating greater significance. This visual representation highlights how each aspect of web development plays a crucial role in the overall success of a website, emphasizing the comprehensive approach taken by Your Graphic Design Guru in web development. ​​
The Role of SEO in the Web Development Process
Search Engine Optimization (SEO) isn't just an add-on; it's an integral part of web development. From the initial stages, SEO principles guide the structure, content, and even the coding of the website. Our guide on how to do SEO provides valuable insights into incorporating SEO effectively.
Staying Ahead: Trends and Innovations in Web Development
Web development is an ever-evolving field, and staying abreast of the latest trends is crucial. From advancements in responsive design to the integration of AI and machine learning, the landscape is constantly shifting. Our article on web design trends for 2024 delves into the future of web development.
In conclusion, the web development process is a meticulous journey that requires a blend of creativity, technical skill, and strategic planning. Ocasio Consulting is dedicated to delivering websites that are not only visually stunning but also functionally robust and SEO-friendly. For more information on our services, visit our custom web design company page.
Enhancing Brand Identity Through Web Design
A website is often the first point of interaction between a business and its potential customers, making it a critical component of brand identity. A cohesive web design can significantly enhance brand recognition and trust. This is where elements like color schemes, typography, and imagery play a pivotal role.
By aligning these elements with the brand's ethos, as explored in our guide to professional logo design, businesses can create a memorable and impactful online presence.
The Intersection of Web Design and User Experience
User Experience (UX) is at the heart of effective web design. A website that is easy to navigate and understand leads to higher user engagement and satisfaction. This includes aspects like site speed, mobile responsiveness, and intuitive navigation, all of which are covered in our insights on what is responsive web design.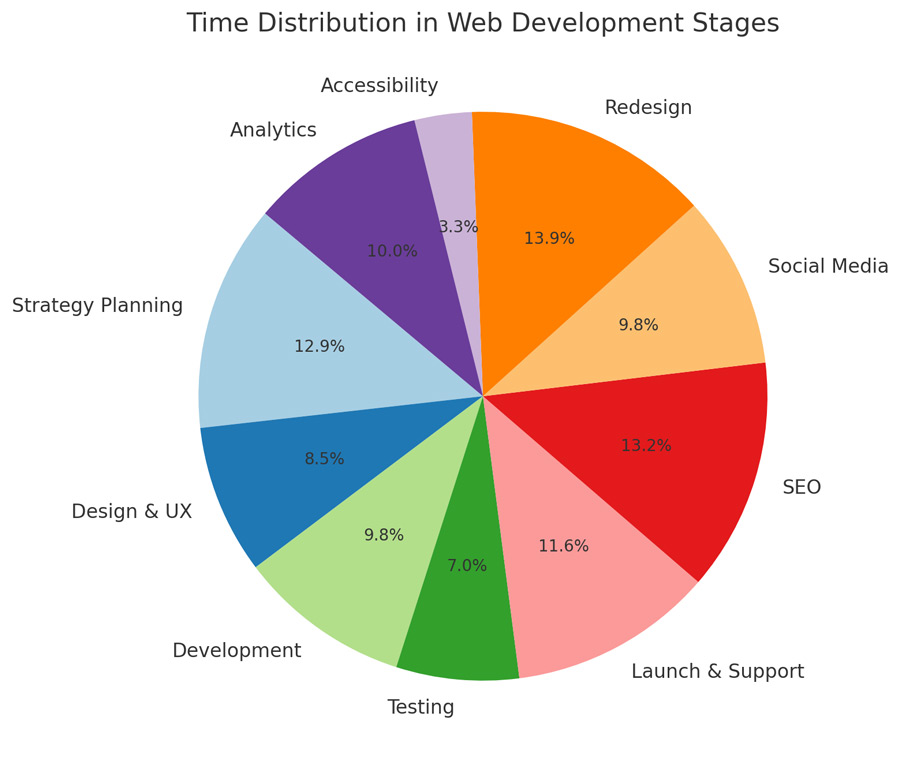 Time Distribution in Web Development Stages: The pie chart displays the distribution of time spent on each stage of web development, such as strategy planning, design & UX, development, testing, and more. This visualization illustrates the relative time allocation for each phase, indicating how resources are distributed throughout the web development lifecycle.
Content Management Systems: A Cornerstone of Web Development
In the realm of web development, the choice of a Content Management System (CMS) is crucial. Platforms like WordPress offer flexibility and ease of use, making them popular choices. We delve into the benefits of using WordPress, especially for small businesses, in our article on WordPress for small businesses.
The Impact of E-commerce Integration
For businesses looking to venture into online sales, integrating e-commerce functionality is a game-changer. Platforms like Shopify offer robust solutions for online stores. Our expertise in e-commerce web design, particularly on platforms like Shopify, is detailed in our services for E-commerce – Shopify.
Continuous Learning and Adaptation
The web development landscape is continually changing, necessitating ongoing learning and adaptation. Keeping up with new technologies, design trends, and user preferences is key to staying relevant. For insights into the evolving trends and practices, our article on internet marketing strategies for 2024 offers a glimpse into the future of digital marketing and how it intersects with web design.
In summary, the web development process at Ocasio Consulting is comprehensive, encompassing everything from initial strategy to ongoing maintenance and innovation. Our commitment to quality, coupled with a deep understanding of the latest trends and technologies, positions us as a leader in the field. To explore more about our approach and services, visit our web design services for small business page.
Integrating Local SEO in Web Development
Local SEO is a vital component of any web development process, particularly for businesses targeting specific geographical areas. Integrating local SEO strategies, such as optimizing for local search terms and including location-specific information, enhances visibility and attracts a relevant audience. Our comprehensive local SEO services are designed to maximize your online presence in your target locales.
Leveraging Social Media within Web Design
In today's digital landscape, integrating social media into web design is not just an option but a necessity. Social media platforms offer a vast pool of potential customers and can drive significant traffic to your website. Effective integration includes social media buttons, feeds, and sharing options, all of which are covered in our article on ways to promote your business on social media.
The Importance of Website Redesign
The web development process isn't a one-time task; it requires periodic updates and redesigns to stay current and effective. A website redesign can breathe new life into your online presence, making it more relevant and engaging. Discover the 7 reasons for website redesign and how it can revitalize your online strategy.
Addressing Accessibility in Web Design
Web accessibility ensures that your website is usable by people of all abilities and disabilities. Incorporating accessibility features not only broadens your audience but also demonstrates your commitment to inclusivity. Our approach to accessibility in web design is detailed in our article on inclusive web design principles.
Analytics and Performance Tracking
A crucial part of the web development process is monitoring and analyzing website performance. Utilizing tools like Google Analytics helps in understanding user behavior, traffic sources, and overall website effectiveness. This data is vital for making informed decisions and continuous improvements. Learn more about the importance of analytics in our guide on SEO for small businesses.
In conclusion, the web development process at Ocasio Consulting is a holistic journey that encompasses a range of strategies and practices, all aimed at creating a compelling, effective, and dynamic online presence. Whether you're looking to create a new website or revamp an existing one, our team is equipped to deliver exceptional results. For more on our web development expertise, visit our professional web design page.
Mobile-First Design: Prioritizing the Mobile Experience
In a world where mobile internet usage surpasses desktop, adopting a mobile-first approach in web development is essential. This means designing websites with mobile users in mind from the outset, ensuring seamless functionality and aesthetics on smaller screens. Our insights on responsive web design delve deeper into creating mobile-friendly websites that deliver an optimal user experience.
The Role of Graphics and Visual Content
Visual content, including graphics, images, and videos, plays a significant role in enhancing the appeal and effectiveness of a website. High-quality, relevant visual content can significantly increase user engagement and retention. We explore the importance of visual elements in web design in our article on web images by a website design company.
eCommerce Web Development
For businesses venturing into online sales, eCommerce web development is a critical process. It involves creating an online store that is secure, user-friendly, and scalable. Our expertise in developing eCommerce websites, particularly for small businesses, is outlined in our services for eCommerce web development.
Ensuring Website Security
Website security is a top priority in the web development process. It involves protecting the site and its users from cyber threats such as hacking, malware, and data breaches. Our approach to website security is covered in our article on website maintenance packages, which includes regular updates and security checks.
Measuring User Engagement and Feedback
Understanding user engagement and gathering feedback is crucial for the continuous improvement of a website. Tools like heat maps, user surveys, and analytics provide insights into how users interact with the site. This information is invaluable for making data-driven decisions to enhance the website's performance and user experience.
In summary, the web development process is an intricate, multi-faceted journey that requires expertise, creativity, and a deep understanding of the latest trends and technologies. Ocasio Consulting is committed to providing top-notch web development services, ensuring that each website we create is not only aesthetically pleasing but also functional, secure, and user-friendly. For a comprehensive view of our web development capabilities, visit our about our design firm page.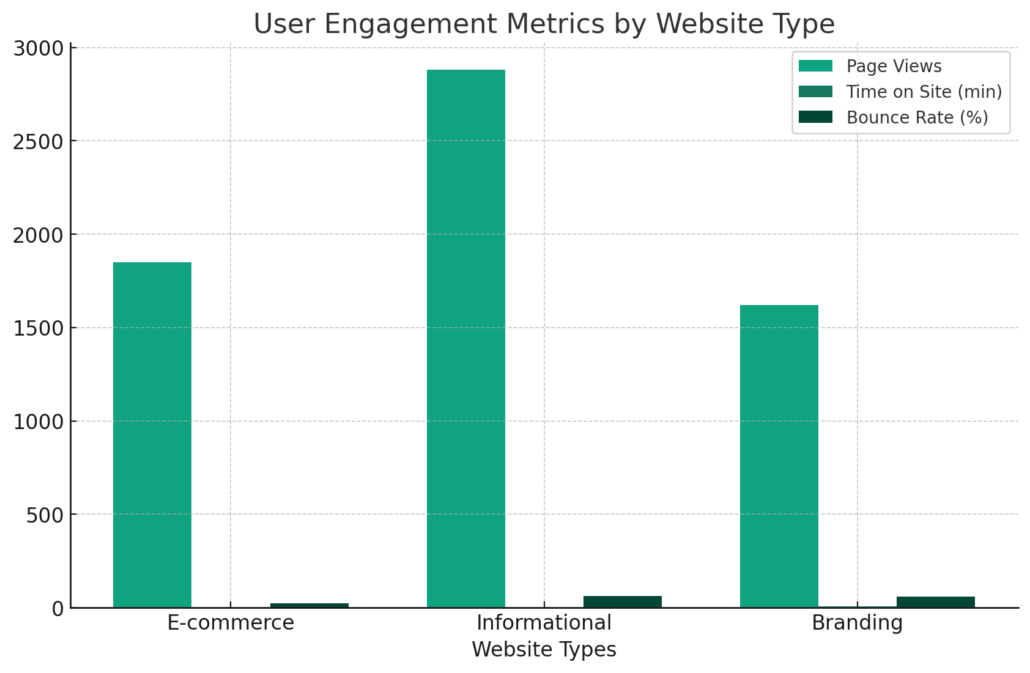 User Engagement Metrics by Website Type: The bar chart compares user engagement metrics across different types of websites, namely E-commerce, Informational, and Branding. Metrics include page views, time on site (in minutes), and bounce rate (percentage). This graph provides insights into how user interaction varies depending on the nature of the website.
Conclusion
In conclusion, the web development process is a multifaceted and dynamic journey that demands a balance of creativity, technical proficiency, and strategic thinking. As illustrated in the article, each stage of development, from initial strategy planning to ongoing analytics and user engagement, plays a pivotal role in creating a successful online presence. The visualizations further underscore the importance of time allocation in different development stages and how user engagement varies across website types.
Ocasio Consulting, through its comprehensive approach and expertise in web development, stands as a beacon for businesses seeking to establish a robust, effective, and engaging online identity. Whether it's crafting a mobile-first design, integrating SEO and social media, or ensuring website security and accessibility, our team is dedicated to delivering top-tier web solutions.
By staying abreast of the latest trends, technologies, and user preferences, we ensure that our clients' websites are not only visually appealing but also functionally sound, secure, and aligned with their business goals. Our commitment to excellence in every facet of web development makes us an ideal partner for businesses looking to thrive in the digital landscape.
For more information on our services and to embark on your web development journey with us, visit our website.